Have you ever dreamed what it would be like to mount over a scenic panorama while sipping on a hot cup of coffee? And do you seldom wish you could take in those gregarious aspects every day? Nothing can be more delightful than finding what you're looking for, peculiarly when it comes to your dream home. In most top prime cities and metros, the land is a gift, and the property in excellent neighbourhoods is even more worthy. The only way to support the growing market for residential grounds in cities is to go upward!
In real estate parlance, any building over 75 feet is a high-rise and wants to have distinct statutes examined such as mandatory lifts, fire fighting system, and having an earthquake-resistant structure.
Now, high rise buildings or even skyscrapers have become the smart choice for home buyers, particularly young professionals, looking for real estate investments. High rise apartments have come to signify luxury, status quo and are looked on as the way to an upper-class lifestyle.
High Rise Apartments in NCR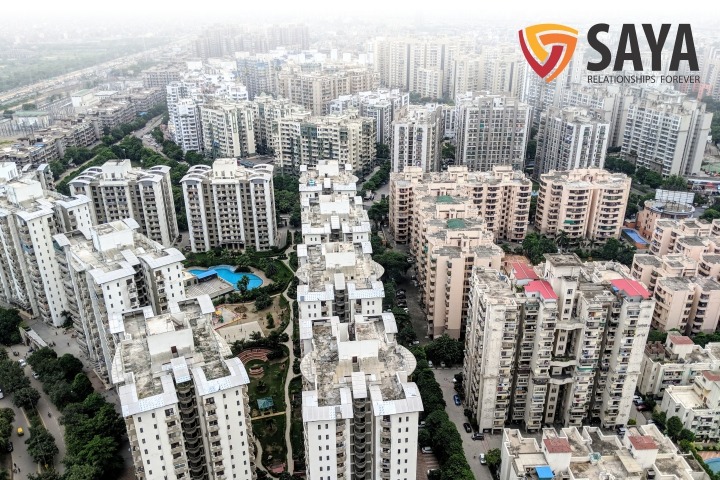 NCR is testifying an enormous boom in the construction sector. At present, there are more than 5000 high rise buildings in the NCR. (Source- Wikipedia)
It's said that when all your aspirations are satisfied, you feel at bliss & ecstasy. At Saya Homes, we trust, our homes should grant you just that, and Saya Gold Avenue is the complete display of it! Saya Gold Avenue offers you a lifestyle where you build your living standard! Whatever you wish to luxuriate in, you can do it here! One of the most opulent residential projects covering beautiful skyline in Indirapuram stands the tallest projects of Ghaziabad, Saya Gold Avenue!
Following are the five blessings of living in such a luxuriating high rise-
Proximity & Neighborhood
Most high rises are or close to, the top locations, amenities & infrastructure. This means peace of commute to work, daily facilities nearby and a better work-life balance. Being in Indirapuram in Vaibhav Khand, you will find yourself well-connected to all the places imperative to you. Noida Electronic City Metro Station is just 5 mins drive from Gold Avenue. Placed at a distance of only 10 mins drive to Akshardham in Delhi, a 10-minute drive to Anand Vihar, & beset by educational institutions, schools, various hospitals, shopping malls like Indirapuram Habitat Centre, multiplexes and fine-dine restaurants, it's the kind of community you will undoubtedly fall in love! Indirapuram's and NCR's famous mall Shipra is just beside to Saya Gold Avenue.
Stunning views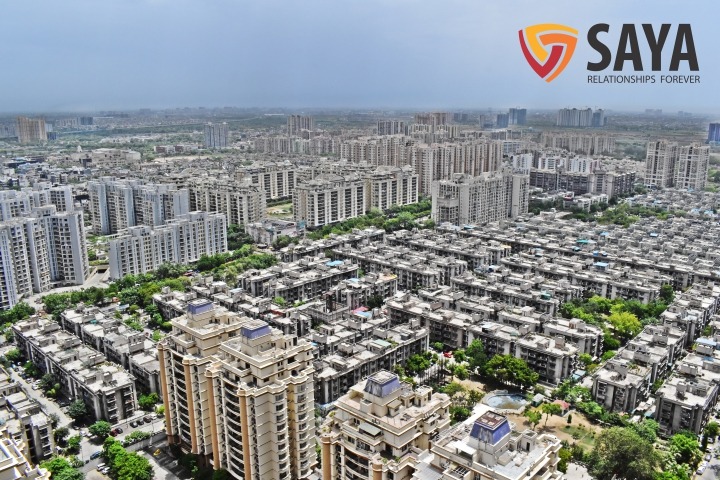 The higher you go, the better the scene! Catch marvellous views of the city skyline, sunset, beautiful rains right from the comfort of your home! View the heightened skyline of Ghaziabad and mesmerizing picturesque as the landmark structure is already half-way in the sky. It is not less than a significant experience!
Limited noise pollution, plenty of natural light and ventilation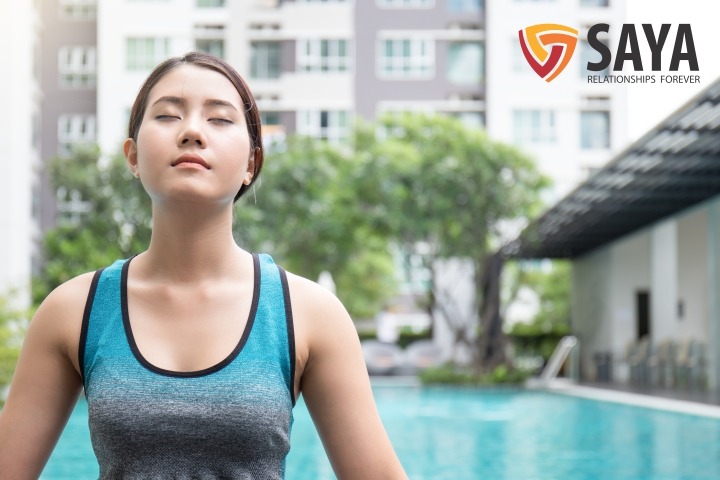 One of the significant advantages of staying in a high-rise building is that you're living in a more carefree, amicable and the noise-free environment. Living on the upper floors means you are separated from the daily traffic sounds and other sonances. A notable advantage of having a home on the higher floors is that they allow plenty of direct light and fresh air, away from the obstruction of the city. Also, the greenery at the premises of Gold Avenue is very soothing.
Security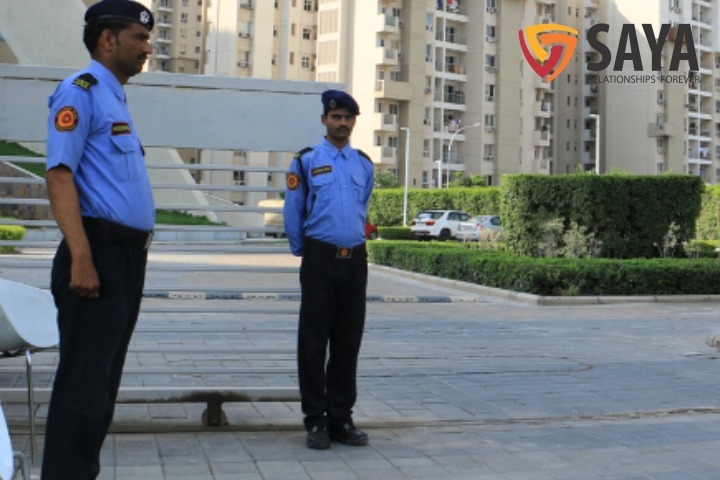 When buying a home, safety is a principal factor that many people contemplate before they make a choice. High-rise apartments are known to give more excellent protection & safety with the installation of security cameras and motion sensors. Gold Avenue also implements the necessary safety measures, which makes the surroundings highly covenant. The apartment is earthquake resistant with RCC structure by Korean S Form technology. The fire safety equipment's, fire extinguishers are installed in the common areas. Keeping in mind the technical glitches, all the lifts are well equipped with emergency devices and alarms.
Flooded with comforts & amenities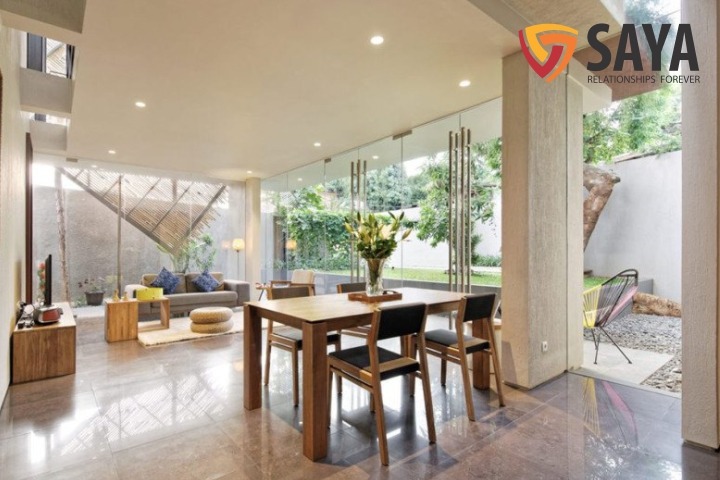 Accompanying with the startling views of the scenic Ghaziabad, Gold Avenue, the reckoned towers in Indirapuram, extends its residents a host of ultra-modern and elite conveniences other than the common ones such as skating rink, pergolas, cricket practice, basketball court, semi Olympic swimming pool, video door phone, Multipurpose hall & standard deck, kids play area, etc. The prestigious address in Indirapuram offers 2/3/4 BHK flats. Known for the only podium based project in Indirapuram & the most attractive clubhouse, the clubhouse typically devises a notion on the lifestyle of the customers. A clubhouse is the one which has everything under one roof. The clubhouse of Gold Avenue is engaging in every feasible way.
If we talk about a rewarding lifestyle, it can't get more real than a home in the sky facing magnificent landscape! Saya Homes hence stand for its meticulous constructions, on-time deliveries & customer satisfaction. Saya has successfully delivered its projects Saya Zion & Saya Zenith recently, which were the famed projects in NCR. Therefore, worry, not! If you are willing to buy a home, Gold Avenue is the perfect abode for one who is looking for a classy living experience at the desired address. Go no further than Saya Gold Avenue as its nearing its possession!