Welcome to Indirapuram! Reckoned as a property market & a vast region on National Highway 9 (24) that falls in the Ghaziabad, Uttar Pradesh. However, its location has the equidistance advantage with Delhi, Noida and Ghaziabad city.
Indirapuram behind the scenes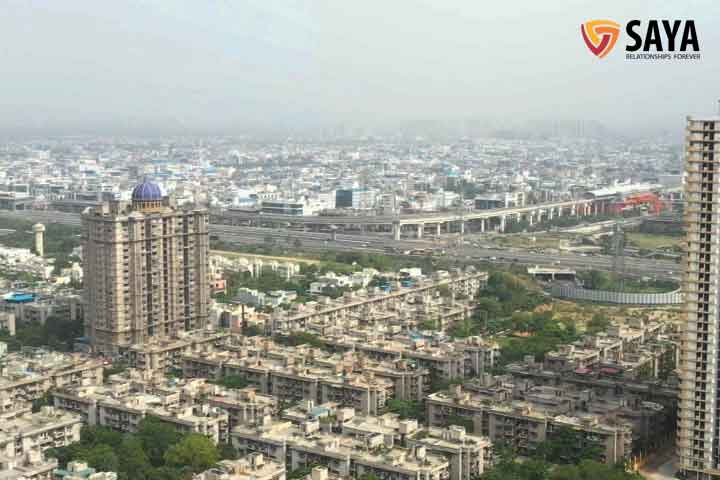 In 1996 after its emergence on the property market landscape, Indirapuram has sustainably seen a significant development & customers willing to invest in the region. Indirapuram has evolved a long way since the last decade. It has observed enormous growth in terms of infrastructure, civic amenities and housing demand. With the accelerated development of infrastructure and augmented connectivity, Indirapuram has become one of the fastest-growing areas in the NCR. What used to be a quiet town has converted into a bustling, lively and much-in-demand property hotspot!
What has added to this change of Indirapuram? Let's have a look-
Full-Fledged Social and Civic Infrastructure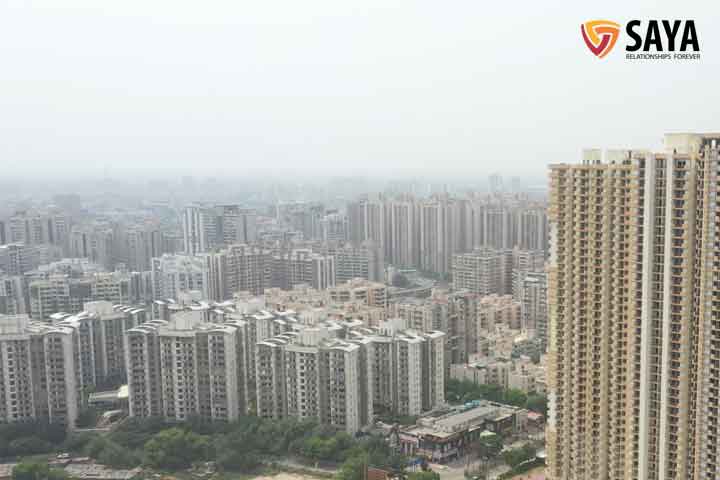 A flawless civic and social infrastructure has played a significant role in making Indirapuram an alluring residential area for customers. Proposed as well as organised roads, steady water and electric supply, availability of graded health care facilities, educational organisations, top-end shopping malls and fine dining restaurants, entertainment avenues and more means that residents have all the required comforts and facilities at their doorstep! The shopping malls, daily markets, street food chains, salons, etc. makes the region more trustworthy.
Premium Connectivity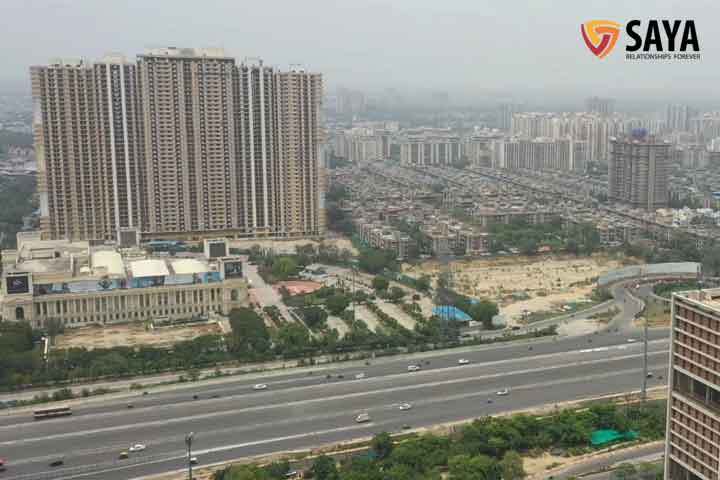 Indirapuram has outstanding connectivity with relevant business communities of Noida, Greater Noida, Gurugram, Delhi & Ghaziabad city as well as extremely well-connected NH-9 (NH-24), elevated Hindon Road, Delhi-Meerut Expressway & the metro stations. Noida Electronic City Metro Station is just 5-10 mins drive from Indirapuram. Also, it takes 10 mins to drive to Akshardham in Delhi, a 10-minute drive to Anand Vihar. Hindon airport is just a few km away. Another reason for the maturity of Indirapuram is its closeness to commercial hubs and some vital corporate campuses such as Galaxy Business Park, Noida Business Park, Logix Cyber Park, iThum Business Park, Pinnacle Tower, BSI Business Park, etc.
Unbeatable Market for Home Buyers
Living in a megapolis & close to Delhi, Ghaziabad is remarkably comfortable for the ones who love a lively neighbourhood. Concerning the other nearby residential hotspots like Noida, Greater Noida, Gurugram, South Delhi, etc. Indirapuram is more affordable for the consumer in terms of pricing. Quality housing, reliable infrastructure combined with desirable real estate prices are an unbeatable combo! In addition to making buying a home a reality, another benefit of investing in Indirapuram properties is that they have notable scope for long term appreciation.
Added Advantages of Indirapuram-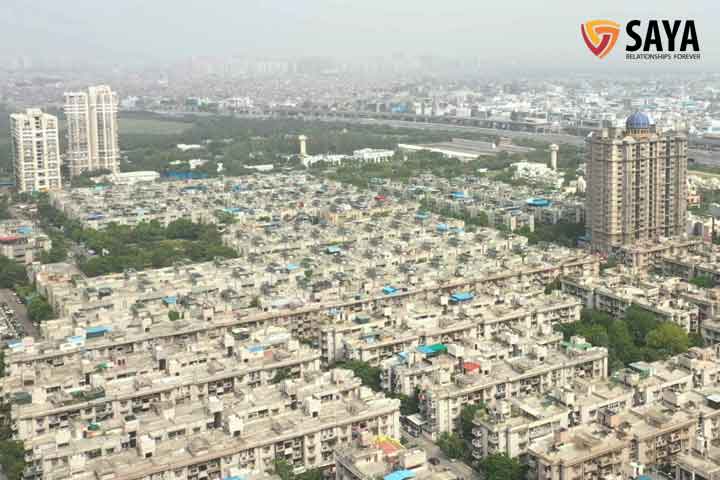 Indirapuram has been the first outlined development of Ghaziabad with a right mix of residential, commercial, retail, institutional, schools and hospitals. Indirapuram being a self-sufficient area with several residential societies, schools, hospitals shopping malls, markets, parks and avenues of entertainment, has perceived the property prices.
Built-in a total area of roughly 5 acres, the project has a total of 1620 units. Saya Gold Avenue is 44 storeyed apartments and is apprehended to be the gigantic tower of NCR. It is the only podium based project in Indirapuram. The surrounding landscapes, impressive architecture, and higher lifestyle facilities have remodelled it into a serene, and the most happening domain. The project is nearing its possession very soon & the developer Saya Homes assures it with top priority.
Amidst such a beautiful assisted living in Indirapuram, stands one of the tallest & touted buildings of Ghaziabad- Saya Gold Avenue! Comprising of 2/3/4 BHK flats in Indirapuram, or one of the best properties in Ghaziabad, these spacious homes are intended to offer the buyers a peaceful lifestyle in the middle of the hustle and bustle of the city with classy amenities right at their doorstep. Gold Avenue is the ideal blend of modern living, easy approachability blended with nature and wellness.
Thoughtfully designed to complement your grandeur and match the stature, Saya Gold Avenue is a high society designed to be your asset forever.
Salient Features of Saya Gold Avenue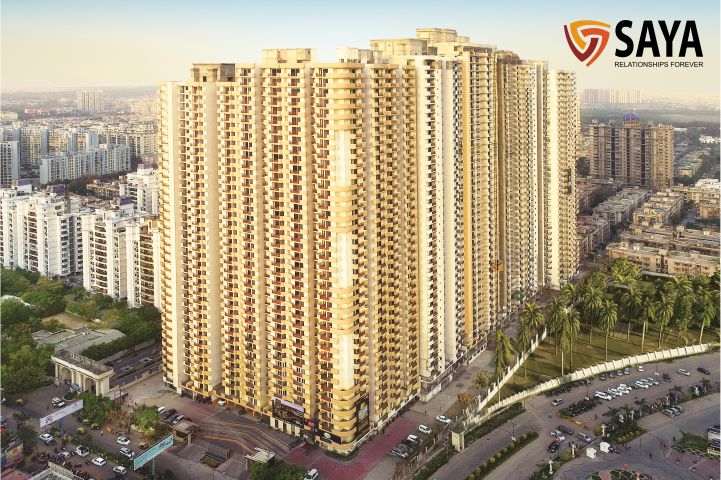 Earthquake Resistant – RCC structure by Korean S form technology
High-Speed Elevators which is Supported by ARD Technology
70% Open Space with the Eco-Friendly Environment
Most Elegant Semi-Furnished Flats
The Breath-Taking View of the City from the Balconies
Modular Kitchen with RO
Round the Clock Security of Premises
The Towers are Adorned with Key Tech Initiatives
Project designed and conceived by world-famous Hafeez Contractor
Classic Clubhouse with all the esteemed amenities
Thus, the gratified lifestyle waits at Saya Gold Avenue all together, making it a happening neighbourhood at an ideal place! Perfect lights, serene surroundings, beautiful landscape, and the happening area of Gold Avenue together make it a picture-perfect home.