Buying a new home in life is everyone's dream and is considered a significant milestone or achievement. It truly brings joyous moments in life. But one should be very careful and cautious as it's a large-sized investment. For benefitting the property for a longer run, essential analysis is most important, especially for first-time homebuyers!
Certain benefits can be availed during a first-time investment and buying a new home.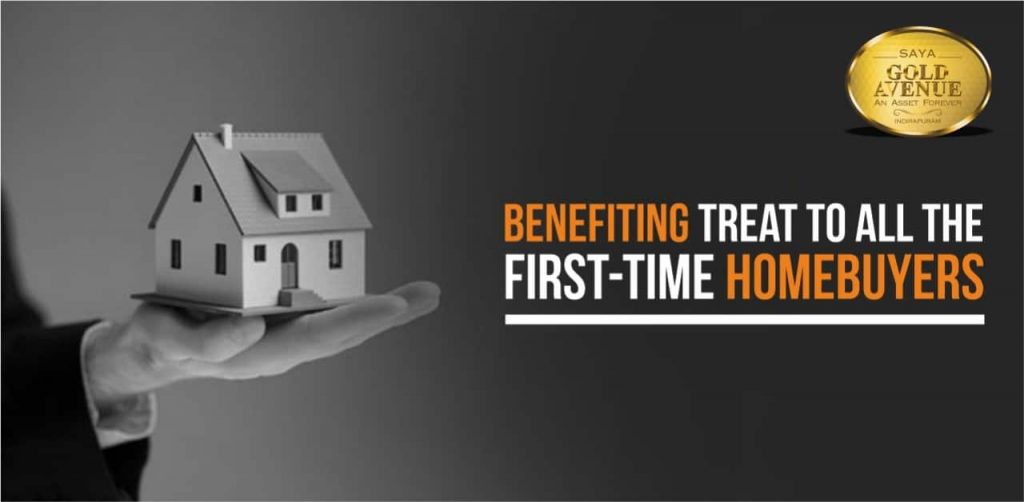 If we overview the real estate sector of Delhi/NCR, it has gone through a lot of ups & downs in recent years. Looking at the India Residential Real Estate 2019 Annual Round-Up Report by Anarock, the new home launches remained to rise in 2019 as well and progressed by 36% over the previous year.
(Source Link:- https://bit.ly/2tmllfE )
According to the latest report by property consultant Anarock and National Real Estate Development Council (NAREDCO) – Noida, Greater Noida, and Ghaziabad resulted in maximum sales of housing units primarily because of developers' conscious restriction of new supply in favour of on-going project completion.
(Source link: – https://bit.ly/2tijd8J)
Speaking of the real estate developers of NCR, Saya Homes, a top-notch realty builder in Delhi/NCR, is known for its customer satisfaction and transparency with the channel partners as well as the customers. 
Saya Homes are now gearing up for the possession of one of its tallest and iconic projects in Ghaziabad, Saya Gold Avenue, in 2020. Saya Homes have delivered three projects earlier Saya Dezire Residency, Saya Zenith, and Saya Zion. Thus, if you are looking to buy your dream home in NCR, Ghaziabad, Indirapuram- Saya Gold Avenue stands to be the best project. Saya Gold Avenue is one such property that makes perfect sense for your current and anticipated future needs.
First time home buyers' benefits can be made available in the form of tax benefits. If you're planning to buy a new house, there are numerous benefits that you can take advantage of, especially if you're taking a home loan to buy it. These first-time incentives to home buyers can be made use of in the form of tax benefits.
Therefore, the following are the considerations you should contemplate when buying a new home:
Set up your budget
Indirapuram, which is frequently called the hottest destination, has many residential property options that are available for the homebuyers. The budget can vary from project to project as it depends on the location. Many financial institutions provide first-time benefits for the homebuyers in the form of reduced interest rates. The flats in Indirapuram are said to have an excellent value for money, and your hard-earned money cannot be tossed against any such property.
Saya Homes have its landmark project upcoming, which has unbeatable market rates at an exciting location of Vaibhav Khand in Indirapuram, offering a reasonable payment plan option for the homebuyers.
Evaluate your options & choose the Right Location
The range of residences available for first time home buyers in India has also increased with a large number of projects coming up. It would be best if you know what choice suits you the best, based on your budget and needs. Your new home's location is essential from both a personal and an investment perspective.
Saya Gold Avenue is the best address in Indirapuram, Ghaziabad because the project is established adjacently to the NCR's most famed shopping mall Shipra Mall. If we look at the metro connectivity, Vaishali Metro is just 15 mins away and Electronic City Metro Noida is just 5 mins away from the project. Delhi and significant landmarks in Delhi, such as Akshardham, Anand Vihar Railway & ISBT station, etc. are nearby and not more than 15 mins from the project venue.
Choice of Great Amenities
Undoubtedly, buying a property that is bundled with amenities is attractive to anyone. At a fantastic cost, the project blends with modernity and richness, ideally with an unbeatable price tag while retaining its opulent presence.
Designed to be your asset forever, the homes at Saya Gold Avenue are decked with the best-in-class features. Apart from the standard amenities provided by the builder such as swimming pool, gymnasium, kids play area, etc.
Saya Gold Avenue is one such project, which is a podium-based project in Indirapuram that adds more elegance to your daily life. Also, steam & sauna, skating rink, Half-basketball court, etc. are a few of the exciting amenities which the builder provides.
Extra deduction on the home loan
People who are buying a house for the first time by availing home loans are allowed to take tax benefits of up to Rs. 50,000 under Section 80 EE of the Income Tax Act, 1961. Right now, a home loan borrower paying interest on the home loan can claim a deduction on investment from his/her gross total income. The best deduction allowed is Rs. 2 lakh per annum under Section 24. But this deduction can only be availed if the property is self-occupied.
Tax Benefit for those not getting HRA
People buying a house for the first time can avail benefit under Section 80GG of the Income Tax Act, 1961. It provides a deduction of any expenditure incurred by an individual over 10% of his total income for rent payment. The additional spending must not exceed Rs 2,000 per month or 25% of his total revenue for the year, whichever is less.
Thus, when you are making your life's most significant investment, you must exercise caution to make the correct choice. Hurry up to invest now with Saya Homes and build a RELATIONSHIP FOREVER.